Jessie is a great performer and a good western song writer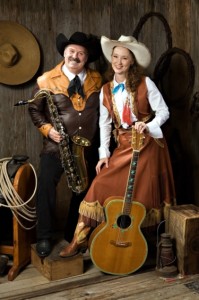 When this western gent joins Miss Devon on the stage, things get more fun than puttin' socks on a rooster. According to witnesses, he's the rowdier half of the duo, and he got his name 'cause, as Miss Devon says, "It's plumb illegal what he does with Milk Cow Blues!" Like all outlaws, Jessie has been known to disappear into at least a dozen alias personalities, so watch him close! With fine tenor-to-baritone vocals (sometimes favorably compared to those of Tommy Duncan), added to some swingy saxophone rides, a little sleight of hand, and a LOT of charm, this rascal just might make a clean getaway with yer funny bone.
As former winners of the Western Music Association Harmony Duo competition, Miss Devon and the Outlaw, in true western style, could be stirrin' up the most dust between here and the chuckwagon camp! They appear at ranches 'n rallies, rodeos 'n railroads, dances 'n dog shows, fairs 'n festivals, convalescent homes 'n conventions, cowboy gatherings 'n cowboy churches, salons , saloons, 'n schools, surprise parties 'n weddin's, bar-b-ques 'n buckboards, shoot-outs, cookouts 'n campouts, horse barns 'n house concerts, museums 'n motor clubs, libraries 'n little folks' birthdays, so give 'em a holler!
See more of Jessie on his web site with Miss Devon http://www.missdevonandtheoutlaw.com