The Terry Family – All Born in and living in Texas. As well as performing western music – The Terry Family owns Wild West Toys – The only manufacturer of U.S.A. made diecast metal cap guns. Shop With Wild West Toys online at WWW.TOYGUNTOWN.COM .
The Terry Family has perhaps the most popular western music video on Youtube!
Western Music Cowboy Song My Pony and Me The Terry Family. As of 12-07-13 this video has 184,145 views. Was written by Bob Terry and performed by Johnie, Bob and Chance Terry.
If you are interested in purchasing one of the Terry Family CDs Gunfighter Ballads & Songs of the West CLICK HERE FOR CD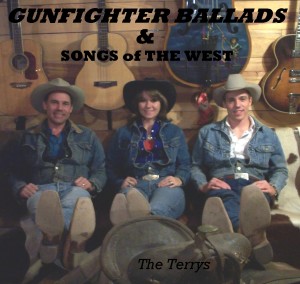 The Terry Family The Masters Call Western Music Cowboy Song.
Western Music, Cowboy Songs, Cowboy Poetry and Singing Cowboy Movies that inspire the Old West. The Terry Family The Masters Call Western Music Cowboy Song. This is a western Gospel song written by Marty Robbins and is on his Gunfighter Ballads and Trail Songs album. The Song is about a young outlaws conversion and meeting The Master Jesus Christ on a trail while rustling cattle. The Terry Family performed this western song at Cowboy Campfire Tales or Campfire Stories at the 2010 Fort Worth Stock Show and Rodeo in the West Arena.
The Terry Family has also produced several Western Movie videos for online viewing! Including the FIRST Western Series produced for viewing on YouTube!
SUNDOWN is a classic type western series of web episodes also called webisodes because they are made specifically for online and are shorter than traditional TV shows episodes. Produced in the tradition of the wonderful late 1950's television westerns. CLICK HERE TO SEE SUNDOWNS PLAYLIST ON YOUTUBE!
Click on the photo to go to Sundown the web episode webisode series page on WesternsTv.com
Western Music Artists to appear in The Sundown Western Series so far are Johnie Terry, Chance Terry, Bob Terry, Kristyn Harris and R.W. Hampton .

– Here is the Terry Family doing the song High Noon at the 2010 Fort Worth Stockshow campfire tales show. Johnie Terry usally plays the standup bass but for this tune she is playing the spoons so Sourdough Myres is helping out by playing the tub bass for The Terrys .
HIGH NOON Western Song.
The Terry Family also owns Westerns On The Web – Home to over 1000 Western TV Shows Episodes and Western Movies to watch online FREE!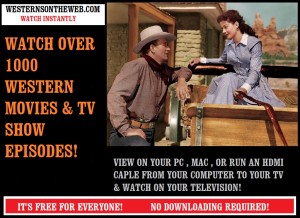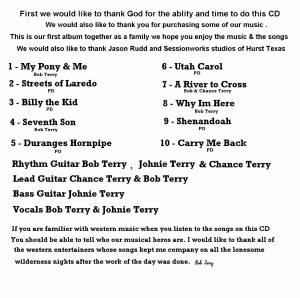 The Terry Family has also owned and operated a Music Store since 1987.