Debra Coppinger Hill lives in rural Rogers Co. Oklahoma, just north of Chelsea on the border of Catale. She is the ranch manager for the family operation, the 4DH Ranch, where they raise Cutting and Ranch Bred Horses, hay and Brahman cross cattle. She draws from her daily experiences, giving her writing a "been there, done that" quality that people identify with. Her column, "Ridin' Drag" features stories about her life on the ranch, as well as stories about Western History, culture, events, family and friends.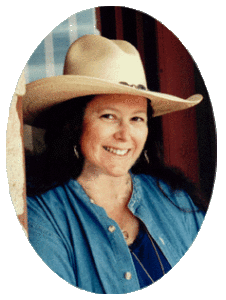 Her love of Western Literature and writing was fostered by her Grandfathers and Great Grandfathers. From them she heard the tales of Texas and of being a Cowboy, and the stories of the Cherokees. She also attributes her love of stories of the past to the rest of her family, who all love to tell and re-tell family and Indian lore.
Her writing includes Cowboy Poetry, Western song lyrics for various performers, promotions and publicity materials and several regular columns for various publications. Her work is included in several two books, "Cowboys Are Part Human" (by Southwest Whispers) and the Gibbs-Smith book, Cowgirl Poetry.
Debra Performs at public and private functions across the U.S., often with one of her Outrider, COPAS or Nighthawk partners, Casey Allen, Doc Stovall, Jerry Warren, Jay Snider, Kevin Davis or Tim Graham. She and her associates present an educational program (that features the Buckaroo puppets) for school and children's groups, that has a Western theme and and anti-drug/alcohol message.
Having lived in various parts of the country before returning to Oklahoma, Debra has found most people will respond to a piece of writing if it reminds them of home or family. She believes all families should share their histories, "Because in looking back, we can see more clearly where to go. A common history is what defines family and country. After-all, we make the world we live in. For good things to survive, we have to take on the responsibility of promoting their positive aspects. It is our duty and our sacred trust."
Debra is affiliated with several groups who are Dedicated to the Preservation of the Spirit of the West.
Outriders
COPAS (Cowboy Performing Arts Society)
The Charley Russell Western Heritage Association
(Charter Mem./ Regular contributing writer Cowboy Gazette,
Current National Director of Publicity and Promotions)
Academy of Western Artists (Charter Member)
Western Music Association
Cowtown Opry
Texas Cowboy Poets Association
Southwest Nighthawks Association